Meet the Agent...
Fiona Waldron is one of our estate agents in Cork. Get to know more about Fiona and her experience of selling property in the Cork area!
Tell us about your background in property and your journey to Auctioneera.
I started my career in 2000 in an estate agent's office in East Cork. During this time, I attended Cork Institute of Technology. In 2005 I qualified as an estate agent and later became a member of the Institute of Professional Auctioneers and Valuers. Since then, I have worked in agencies in East Cork, Douglas and spent over 6 years working on the South Mall in Cork City. I joined the team in Auctioneera in October 2020. Working with Auctioneera has allowed me to bring all my years of experience and use it in a new and exciting way. We still provide the all-important personal interaction with our clients but through a much more efficient and cost-effective platform.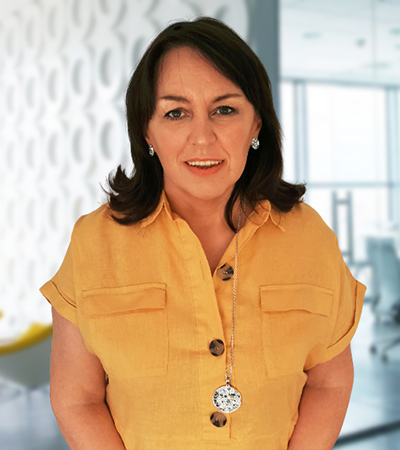 What do you like about working in property?
My favourite thing about working in property is the people I meet. Every day I get to work with people who are making probably one of the biggest decisions of their lives and it is a privilege to be able to take that journey with them. I love the challenges along the way and the excitement when the deal is done. After over 20 years I still get a buzz out of it.
What is your top tip for anyone considering selling their property?
My top tip would be to choose your agent very carefully. Do your homework, ask friends and family for recommendations and check out online reviews. When you meet agents don't be afraid to ask plenty of questions about how they value your home, how they intend to market it and how much they are going to charge you for the service – don't rely on a percentage, ask them for the final figure and ask does it include any extra fees. At Auctioneera, we charge a fixed fee so it's very clear from the outset. When you have made the decision to sell, let your solicitor know straight away. They might need to get the deeds of your property from the bank and that could delay the sale unnecessarily down the road.
What do you think hinders a smooth sale?
I believe lack of, or poor communication is a major factor to hinder a smooth sale. There should be regular communication between agent and vendor, agent and buyer and solicitors and their clients. Good communication will highlight any red flag early and it can be dealt with quickly and efficiently.
Do you have advice on how to stage and prepare a property for photographs & viewings?
The best way to stage your property is to de-clutter and de-personalise as much as possible. Ask the photographer for advice and go from room to room with them. Make sure the front of the house and garden are clean and tidy, maybe place some flowerpots to add colour. Look at the weather forecast and book a time of day when the natural light enhances your home the most.
Why should people choose Auctioneera to sell their property?
Everybody should choose Auctioneera to sell their property because we will get you the highest achievable price at the most competitive rate. We go over and beyond for our clients and treat every property as if it is our only one. We are available 6 days a week and you will get regular and honest updates. Vendors and buyers trust the transparency of our system and we have proved that it works, just check out our hundreds of 5-star Google reviews.