Ultimate Guide for First Time Buyers
Buying a new build property is hugely exciting in someone's life and it is likely one of the biggest financial transactions one will make. Because many purchasers of new build properties are first time buyers, the whole process can be somewhat daunting so that's where this guide comes in. We break down the steps involved in buying a new build so that it's very clear on how to get things rolling on your journey to a new build house purchase.
Where to Begin with New Builds
Just like with the purchase of any property in Ireland, you will have to demonstrate to the agent in charge of selling the property how you plan on financing the purchase of the new build. This is referred to as proof of funds. Depending on your source of finance (cash, mortgage, cash/mortgage combination) some form of documentation is needed for the agent to verify your eligibility. We have a post on the topic of proof of funds to explain what it means exactly.
Getting Finance
When buying a new build, there are thankfully, a number of government financial supports to help you along the way. This includes the Help to Buy scheme, the Local Authority Home Loan and the Shared Equity Scheme from the government. You can read about how these work in our first time buyer guide. The Shared Equity Scheme has not yet launched but it is due to roll out in the first half of 2022.
The "Enhanced Help-to-Buy" scheme has been extended to December 2022. It's relevant for new build properties only, including self-build homes. It provides a tax rebate of up to €30,000, or 10% of the purchase price of a property (whichever is less) for homes priced at €500,000 or less. More information available here including how to apply: https://www.revenue.ie/en/property/help-to-buy-incentive/index.aspx You will need to confirm with the estate agent selling the development that you're interested in that the developer/builder is eligible for this scheme.
The Shared Equity Scheme, although not yet launched as of March 2022 has indicated that the government will take an equity stake of up to 30% in the new build property (where Help-to-Buy is not available, a maximum of 20% if Help-to-Buy is used) in order to help buyers stretch their finances.
The Local Authority Home Loan is a government backed scheme that offers low, fixed interest rate loans for amounts in excess of the 3.5 times salary cap. It can be used to purchase a new or second-hand property or for a self-build anywhere in the country. A Local Authority Home Loan provides up to 90% of the market value of the property.
Finding New Developments
To begin your search as wide as is possible, you can set up email alerts on Daft or on MyHome. We've recorded a short video below to indicate how to do this easily.
You can also use Google to search "New developments [ locality / area you're interested in ]" and you will find that developers will have individual websites for new build developments. You can then browse those websites and crucially register your interest. See image below and the red arrow. This means you will be kept up to date on any new phases being released.

On these developer websites, you will also find a static site plan, floor plans and specifications of the various house / apartment options. You might also find details of release dates of new phases. "Phases" is a term you will see a lot relating to new build developments. Builders/developers tend to release initial phases and they might release subsequent phases a number of months or a couple of years afterwards. Each phase typically includes a number of different property types e.g. 3 bed end of terrace, 2 bed mid- terrace, 3 bed semi-detached, 4 bed detached etc. but it varies from development to development. You can study the relevant site plan carefully to see the details.
How to Choose an Area to Live
Choosing an area to buy a new build might be obvious if you are from the area yourself but many people are in the position of not having a specific affinity to a location. They might originally be from overseas or from another part of the country and perhaps they relocated for work reasons. As a result, they may need guidance on where to choose a new build development. Here are some tips:
Here are some tips: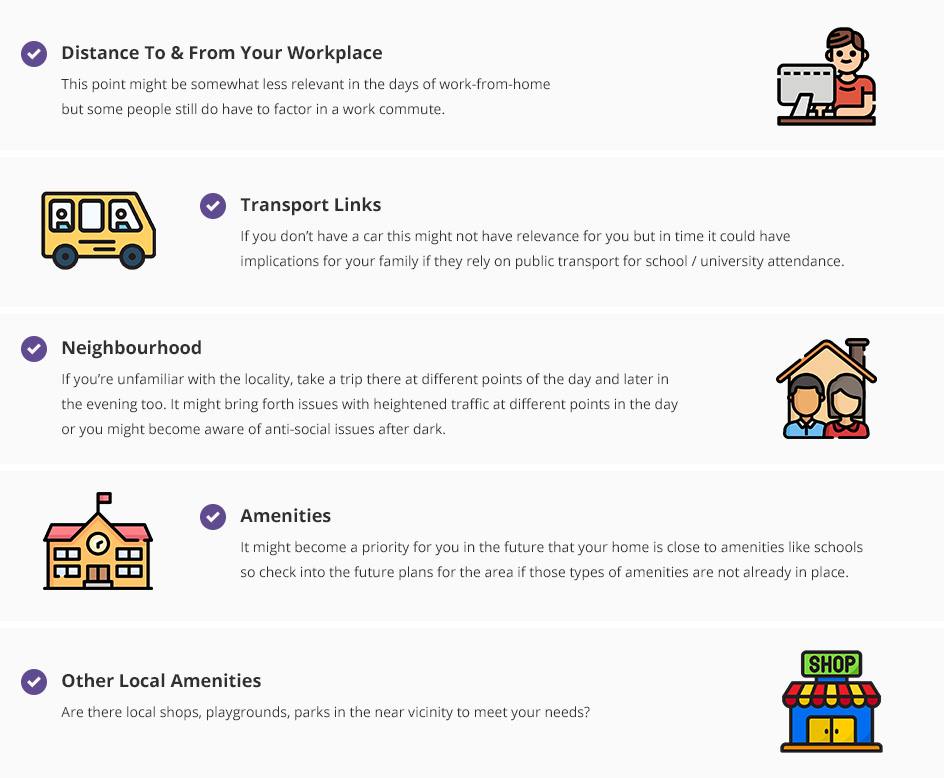 What Does Buying Off the Plans Mean?
Buying a house off the plans means committing to buying a property without actually setting foot in it. Buying off the plans means someone is basing their purchase on viewing the showhouse, the plans and the associated marketing materials such as the brochure. Even having viewed a showhouse doesn't mean that your home will exactly mirror this property as room dimensions might be slightly different so it's important to be aware of this when purchasing.
So what can you do to ensure you're happy with buying off the plans?
1

Check the builders / developers' track record. Check out their company website and you should see previous developments that they've completed. Do a Google search on their name and see if it throws up any pertinent issues on forum sites or within Facebook Groups for example. However, do note that some sentiment about developers can be subjective so try to read into it with objective eyes and arm yourself with the information.

2

Be aware that your floor plan room measurements may not be provided. When buying off plans you may only be given the overall property measurement and not the individual room measurements. This is to avoid issues once your property is built as there may be slight differences to room configurations to your finished property.

3

Ask the selling agent about proposed completion dates and property numbers. The agent will be able to give this important information so that you have an insight into when you will be able to move in. Also ask the agent about how many homes there will be in the final stages of the development; you don't want that to be a surprise for you. You can also ask them about possible future amenities that are planned e.g. playgrounds etc. It's also worth noting that up to 10% of all new build developments are dedicated to social housing; each development will be different so ask the agent about the agreed allocation in your housing scheme.

4

Be aware of the orientation of the property you're buying off the plans. Having a garden that faces south or west is optimal in that you will have longer periods of sunshine to enjoy in the afternoon and evenings. Gardens are usually indicated in the site plan (in general the length of a garden in new developments is approximately 11 metres) but always ask the agent for a landscape plan or building site plan that shows your exact boundaries to confirm your own garden plot; furthermore, confirm if kerbs, paving, grass seed is included in front / back gardens where applicable.

5

Management fees & parking arrangements. Find out the management fees involved (if any) for your proposed property. Different development management fees cover different things, for example some might include the bins/waste collection but some may not so it's important to establish this at an early stage. If you own a car(s), get confirmation about parking arrangements in the development - will your property have a driveway and will there be extra parking on the site for excess cars.

6

Find out the standard fixtures and fittings and ask about customisation possibilities. Ask for a list of approved suppliers so that you can view the standard fixtures and fittings; you can then also have a look at the "extras" to see if you would raise your budget to customise.

7

Consider the location your property will be in the development. If you buy at the early stages of the development e.g. phase one, yes you will be closer to the entrance / exit of the development but equally, you will have a growing amount of passing traffic as the phases roll out. If this is important to you, i.e. a quieter spot in the development, consider these elements carefully.
Completion Dates
As witnessed throughout the Covid-19 pandemic, delays in the construction industry can hugely impact on completion dates. Coupled with these logistical issues with materials and it can be a possibility that your proposed completion date could run into delays. Developers will want to complete this development as expeditiously as possible as they have other projects they want to move to but if delays happen, you will be notified. It's important to keep the lines of communication open with your lender if you're concerned about your loan approval date expiring before construction is complete.
When Do I Get Keys for my New Build?
When buying off plan, in the contracts issued to your solicitor, the builder won't commit to a specific completion date, rather they will include it as 18-24 months of a completion post signed binding contracts. The completion date will be defined in the contracts as 14 days after a completion notice is served on your solicitor. This allows you precious time to save money towards furniture and the other costs associated with moving. Booking deposits vary for new builds but can be anything from €5000 to €20000 and are fully refundable up until contracts are signed. You will of course need a conveyancing solicitor to assist with the sale and you can get quotations and read reviews using the Auctioneera Marketplace for conveyance solicitors. If you're concerned about completion dates and your loan offer expiring, ask your solicitor to make the contracts subject to loan approval, this gives you the possibility of exiting the contract if, for some reason, you cannot get another loan offer after it expires.
Should I Get a Surveyor to Check my New Build?
You might assume that with your property being new that there is no need to get a survey done however this isn't always the case. It's not a necessity but it is diligent to get an independent professional to check that everything is in order. You will have a period of time where you can report issues (known as "snags" or a "snag list) to your agent / developer so it is prudent to get the property checked by a surveyor. You can get a quotation for a property engineer on the Auctioneera Marketplace.